BioSmart Commercial Bay-Light
The BioSmart 90-150W LED high bay light is designed for industrial or commercial applications where reliability and performance are important while budget is also a factor.
Every component of the BioSmart LED high bay has been carefully engineered to provide reliable performance and bring across many benefits of utilizing solid state lighting technology in commercial applications.
Most BioSmart LED lights are CE and RoHS compliant, UL and DLC listed, as well as AIA approved and recommended.
Features and Benefits of BioSmart LED lighting
Advanced technology with thin (3/4″) troffers.
Dramatic energy savings
Flexible voltage otions: 100-240 volts AC.
Broad spectrum light; warm or daylight
Adaptations for existing or new construction.
Flexible design potentials.
Portable or permanent installation.
Minimal installation costs.
Long life
Energy credit subsidies on some models.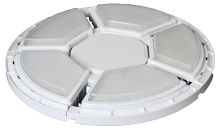 Technical Specifications
As high as 100 watt/lumen
120-240 volt options
18,000 lumins
Power efficiency ≥ 90%
HID replacements for 250-400 watt

250 watt HID replacement: 150 watt/14,000 lumen LED
400 watt HID replacement: 180 watt/18,000 lumen LED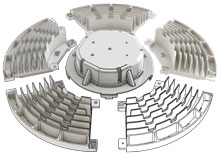 Design
Patented modular design
Modular components results in up to 80% fewer repair costs
Multiple mounting options, including chain or pole
Weatherproof outdoor bay and street-lights available
Back-light available: up to 12%
Applications
Municipal Lighting
Parking Structure Lighting
Factory & Warehouse Lighting
Commercial Facilites Lighting
Gym Lighting
Life and Warranty
5 year warranty-60,000 hours
Service life-25 years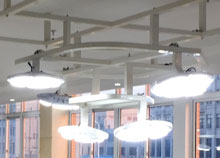 Certificates and Recommendations
UL listed
DLC – some models
CE and RoHS compliant
AIA approved and recommended
ISO Certified factory