Features Found Only in the BioSmart® Breathe Easy Platinum Edition
With over 25 mechanical updates, our Platinum Edition heater/air purifier is quieter, smarter, and more efficient than previous Breathe Easy editions and sets a new standard of quality and performance in the portable infrared heating industry. This one-of-a-kind, dual function, year-round home comfort appliance doesn't have to be stored away during the summer months. Just turn the heater off and keep the air purifier on!
The Breathe Easy Platinum Edition is our top-of-the-line model!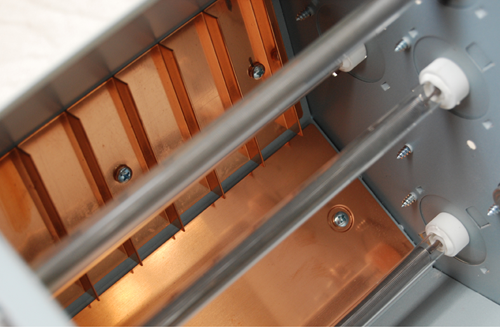 The proprietary heating chamber features a 300% increase in the copper surface area, insulating ceramic liners, ultra quiet powerful fan, and larger, more efficient 120 volt quartz far infrared elements enhanced to a 30,000 hour lifespan. This combination produces efficient infrared energy that can heat up to a 1,000 sq. ft. and provides more heat than any other portable infrared heater on the market.
Dual power settings and fan speeds provide greater versatility and noise reduction. The BioSmart® Breathe Easy Edition is now even more compact for portability. The thermostat is accurate to 1 degree and can be calibrated to match the house thermostat. The heater thermostat can be set anywhere from 37 – 86 °F to cover a wide variety of applications and to ensure your own personal comfort zone.
Electronic features include a delay start timer, an automatic re-start feature in case of a power outage, a thermostat programmable in 1 degree increments, a LED temperature display, and a full function remote control.
BioSmart® 5-Stage Air Purification System – Now Independently Operable!
The BioSmart® air purification component of our Breathe Easy portable infrared heater can be run independently of the heater. It's designed to provide effective protection against airborne bacteria, viruses, allergens, VOCs, smoke, odors, and gaseous contaminants utilizing our patented 5-stage air purification system:
Lifetime Passive Electrostatic Pre-Filter traps dust and other particulate
Ultraviolet (UV) Emitter kills airborne viruses, bacteria and micro organisms
TiO2 Photo-Catalyst Hydroxyl Radicals more effective and safer than ozone at destroying contaminants and hydrocarbons
Negative Ion Generator neutralizes free-radicals & has numerous health benefits
Solid Hydrophobic Carbon Gas Absorption Filter (optional) absorbs smoke, gaseous contaminants and VOCs